From Charlotte 
It's been less than two months since I came back to Creative & Commercial after maternity leave, and pretty much the first time I've been able to take stock of how it's going. I haven't stepped into our office for over a year – and whilst i don't miss the physical premises, I certainly miss the opportunities for creativity and collaboration which come from in-person interaction.
Nonetheless our amazing team has harnessed new tech and 2020-friendly ways of working in order to keep sharing ideas, developing skills and innovating for our clients.
While the impact of the pandemic on both our charity/non-profit and commercial clients has been undeniable, the need to keep communicating – to customers, donors, stakeholders and clients – has only increased.
Two of the major projects I have been involved with in these last few weeks have required innovative digital solutions, to what would, under 'normal' circumstances, have primarily happened offline.
Firstly Chai Cancer Care's Big Campaign, and secondly the inspiring and highly emotional tribute to mark the end of the 'Shloshim' (the thirty-day mourning period) in memory of Rabbi Lord Jonathan Sacks.
In taking a 'digital first' approach, we were stunned by two incredible outcomes: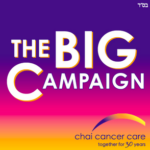 For Chai we saw over £3m raised in 36 hours – through donations from close to 14,000 people. Small donations made the difference. 82% of all donors gave amounts of less than £100. This should bring an exciting shift to the mindset around philanthropy – everyone can play their part.
For the Tribute to Rabbi Sacks, we were able to incorporate tributes from more than 50 individuals, from across the world. And, in 3 days, the programme has had tens of thousands of views – surely a testament to the huge numbers of people who felt this great man's loss and wanted to share in remembering him. If this would have been a live event in London this would not have been possible.
So even though in 2020 we have spent more time alone than ever before – perhaps, at the same time, we are actually able to benefit as individuals, and as a community, by being more connected.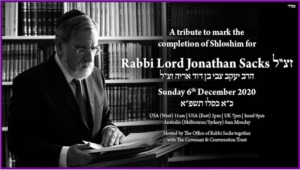 To watch the Shloshim Tribute to Rabbi Sacks please click here.
#digitalfirst #working2020 #collaboration #connectivity #maternityleave #returntowork